"On 6th September 2005, Senan, our only pride and joy, arrived into our lives and marched his way into the hearts of everyone who met him. Forget Mourihno, he is our "Special One"  and our hearts always fill up with pride when people remark on what a loving, caring, funny boy he is.
Senan is football mad, whether its out playing with his friends on the street, winning trophies with his local U12 team, Parkvilla, or supporting his favourite team Liverpool, he always has a football around his feet!
Senan had been feeling a little unwell, complaining of headaches and had vomited a couple of times but as migraine is prevalent in both sides of the family, we just let him rest, gave him some Nurofen and hoped it would pass quickly. We headed to Wexford to visit Senan's Grandparents and were looking forward to some fun and relaxation time as a family.
When the headache refused to go, the local GP referred us to Wexford General where he was admitted as he was in terrible pain, holding his head in his hands, vomiting and his vision was slowly deteriorating.
Next morning, a CT scan was carried out after which we were given the awful news they had found a mass and that he would need to go to Beaumont immediately for surgery to relieve the pressure on his brain. It was the Friday of the August Bank Holiday,29th July 2016, a day we will never forget.

Beaumont
Senan was sent down to surgery as soon after we arrived and Dr Caird worked his magic and inserted a shunt to relieve the build up of fluid being caused by the mass. An MRI was carried out while he was under anaesthetic and a sample of fluid also taken to be analysed.
A biopsy was carried out on the following Wednesday after which Dr Caird felt it was as he suspected, a malignant Germinoma, a type of Brain Tumour, but the biopsy results would need to officially confirm this.
Staff were absolutely amazing through our whole stay, many friends and family came to visit, Senan's bravery, optimism and big smile keeping our spirits up.
Crumlin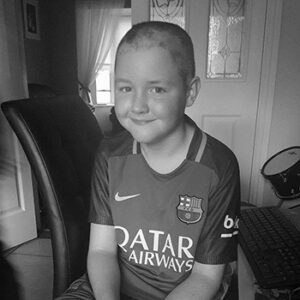 At our first appointment with Dr Cormac Owens, we got our first proper look at what we were dealing with, a 2.4mm malignant tumour, unable to be removed surgically because of its location, but very treatable, a massive relief.
We were told that we had 4 rounds of chemotherapy followed by radiotherapy ahead of us, which would begin the following Friday 12th Aug.
Senan was so brave as he headed into surgery again to have his "Freddie" inserted and didn't bat an eyelid as they connected him up to his first bag of Carboplatin that afternoon.
He was sick that night but took it in his stride and continued to amaze us with his strength.

Senan has since had his 2nd & 3rd rounds completed and hope to have his final bout done next week during the mid-term break, still able to go "Trick or Treating" The next step on his recovery is a 3 week stay in Essen in Germany to receive proton therapy. We were told the HSE would pay for his treatment but the rest of the expenses were up to us. We contacted John who said he would be only too delighted to help us. We have organised a quiz night in November before we head off to help raise some money (and awareness for The Gavin Glynn Foundation)"
Cheers, Dave, Cliona and Senan.