Seáns Story:
Seán is 12 & from a lively household with 2 brothers, a sister & parents who all adore him.  He is incredibly kind, loving, giddy & earnest, with many interests … X-box, reading, chess, hurling (esp the Galway team, heavily influenced by his Dad 😉), GAA football, all things soccer but top of the list is Liverpool FC.
Seáns symptoms began on June 8th with what we thought was a stomach bug but then he started to complain of headaches.  Our GP suggested he had teenage migraine.  Concerned that he was dehydrated and losing weight from persistent vomiting & chronic headaches (esp during early morning) we requested a referral for Crumlin hospital where Sean had neuro exam and a CT scan.
That was June 20th…
Within hours Seán was transferred by ambulance to Temple St into the expert hands of the amazing neurosurgical team.  They confirmed that Seán had a large brain tumour which was also causing hydrocephalus (cerebral fluid build-up).  Following several procedures & craniotomy, the tumour was removed but confirmed as malignant (Medulloblastoma).  Treatment requires chemotherapy but initially proton radiotherapy not available in Ireland, but in Essen, Germany.
This was when we were first introduced to the Gavin Glynn foundation.
For the past weeks we have been carried by a wave of generosity, kindness and support from the many people who know & cherish Seán as must as we do.  However, the prospect of going overseas added a new level of anguish and we had little reserve to plan & organise the logistics it would involve for our family.
Every time I talk with John Glynn, I am overwhelmed by what 'The Galvin Glynn Foundation' has done in the past week to ensure that our family can travel this weekend and be together with Seán in Germany over the next few months.  I will be eternally grateful and hope someday to be able to talk to John without tears.  In the meantime, for people who have been asking how to support us, I would request that you do so by donating to support his incredible work.
Ní neart go cur le chéile  –  Or for the Liverpool fans "YNWA"
Alison, Brian, Dillon, Cara, Seán & Fionn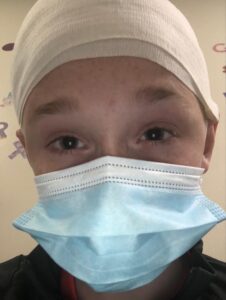 \\\