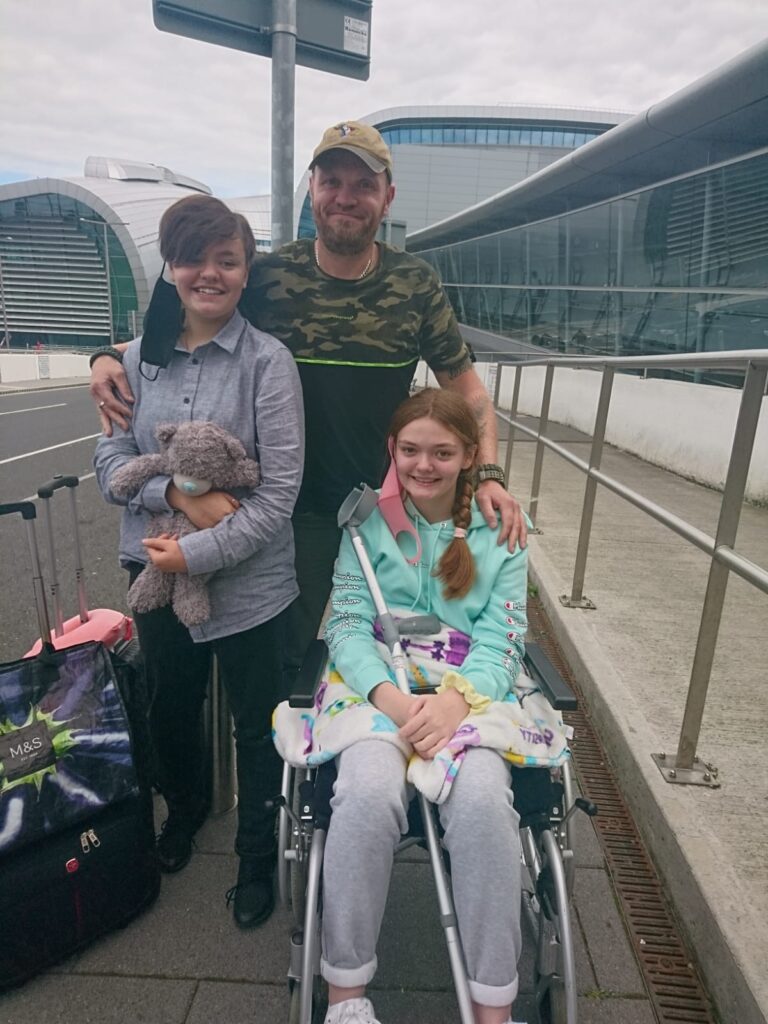 Please read the below story About Saoirse who we are currently helping. Thanks to Saoirse and her mum and dad for sharing her story.
Saoirse turned 14 in July just gone. She was already having a difficult time as her mum Fiona was diagnosed with Breast Cancer in April 2020 and pretty much started chemotherapy straight away. Saoirse had been suffering with headaches for some time but things got serious when she started vomiting in the mornings.
She was taken to Portiuncula hospital in Ballinasloe and had an MRI. I'll never forget that day. Waiting for her results after having had a lovely doughnut picnic on the grounds of the hospital.
Seeing my sister's face, already suffering with Cancer herself, as she came around the corner will stay with me forever. As we hugged I could feel Fiona's heart shattering.
Saoirse had a large brain tumour and was taken to Temple Street Hospital in Dublin the following day. And the roller-coaster began. She had the tumour removed the following week. Without a word of complaint or self-pity. The featured photo is of Fiona and Saoirse in Temple Street Hospital just prior to the surgery.
Then the wait began for the results of her biopsy. The tumour was malignant, known as a Medullablastoma. Devastating news at 14 years old, but throughout all of this Saoirse has remained stoic, courageous and strong. In fact, on the day she found out she had the tumour she was comforting her sister Teagan, telling her 'Everything is going to be OK'.
The surgeons had to leave in a small section of the tumour as it is attached to her brain stem and couldn't be removed.  This resulted in needing a Lumbar Puncture which, thankfully came back clear.
This culminated in the good news that Saoirse has qualified for Proton Therapy in Germany which has less side effects than Radiotherapy. She flew off to Germany on 30th August with her Dad to be fitted for the Proton therapy mask and then flies back over on 14th September for 6 weeks of therapy.
After that she will be facing nine months of Chemotherapy.  Fiona (Saoirse mum), during all of this, has been going through her own Chemotherapy which, as you can imagine has made her ill herself but she has carried on without a thought for her own Breast Cancer and the surgery and Radiotherapy she will be facing herself very soon.
In fact, Fiona couldn't be with Saoirse in Germany that weekend because she has her own Chemotherapy on Monday.
Saoirse has been travelling up and down two to three times a week to Dublin for so many different appointments including being measured for a wig and invasive fertility treatment so her eggs can be frozen for the future. After all of the treatment she receives she will potentially be infertile. So much to go through.
Saoirse is surrounded by an amazing group of friends, in particular her best friend Isabel. She has family who adore her.
She has always been kind, generous, hilarious and a little bit crazy!! Her sisters Rachel and Teagan are really supporting her but are going through so much themselves what with their mum being ill as well.
The Gavin Glynn Foundation is delighted to be helping Saoirse and her family and we will support them on their journey.