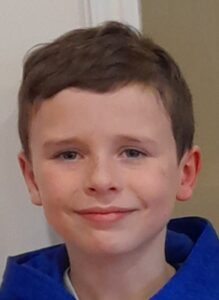 Rúairí was only 8 years old when a diagnosis of cancer was served to him. Something no child or parent wants to hear.
A young, quiet, humble boy who never complains and just gets on with life, loves his GAA and football and would never miss an opportunity to play.
In the madness of a house with four young boys, Rúairí, our second child, has always been cool, calm and collected and wise ahead of his years. Often referred to as the "Calm in the Storm" long before any ill health.
During July of 2022, Rúairí began to display symptoms of what we thought was hay fever.
Bloodshot eyes, runny nose and postnasal drip. It then progressed to tummy pains and vomiting which would come and go and was short lived and reoccur every few weeks.
A prescribed antibiotic in August did not give much relief. Eventually he could no longer breath through his nose, blow his nose or smell. His left nostril was constantly pooled with mucous and old blood and there was a very foul odour. His voice sounded very nasal and the snoring was horrendous. He was hard to wake in the mornings. He was gradually becoming more tired and losing weight which was concerning. He looked exhausted on the football pitch but refused to take a break.
In September, he was prescribed treatment for Rhinitis with a view to review same in one month. He was half way through this treatment, and while on a family holiday, his left eye turned in.
He had no headaches and wasn't complaining at all, but now he had double vision. We returned to our GP and they advised to go straight to A&E. The referral letter was very comprehensive, however, Rúairí was discharged in the early hours and advised to go to the opticians to rule out a lazy eye. Our GP intervened the following morning 11/10/22 and Rúairí was taken back straight away for a CT scan. The scan results showing a sizeable tumour on the brain. At the time the Consultant felt it was a Juvenile Nasopharyngeal Angiofibroma, slow growing, and in most cases a benign tumour, however, we needed to wait for a bed in Temple Street for a biopsy to confirm.
6 days later 17/10/22, we got to Temple Street and Rúairí had his biopsy on the morning of 19/10/22. Some results were fastracked.
On Thursday 20th October 2022, our worst fears came true when we were brought to see the Consultant and told that it was a tumour and not an Angiofibroma.
We were immediately referred to Oncology in CHI Crumlin. We took Rúairí home that evening to see his brothers and started his cancer journey the following day when we visited his Consultant and CNS in CHI Crumlin to discuss his treatment plan and to get a clearer picture of what was ahead for him.
As a parent, I cannot describe the fear, the darkness and the places your mind goes to. That was the longest journey of our lives, that day we drove to Crumlin. Neither of us could speak. We were beyond scared, yet, behind us sat was our 8 year old son, still smiling, never complaining and asking of nothing.
During the meeting we discussed Rúairí's cancer diagnosis….. Rhabdomyosarcoma of the Nasopharynx, inoperable, and also his treatment plan of Intensive Chemotherapy and Proton Beam Therapy which he would need to have abroad, either Germany or the UK. Before any treatment started they needed to complete "staging" and have PET scan, bone marrow aspirate, biopsy and lumbar puncture. He also needed to have a central line and gastrostomy tube (PEG) inserted too.
On 27th October Rúairí had his PET scan (stage 3 cancer) and on 1st November he went to theatre to have all the other jobs done. On 2nd November he started his chemo. It was a lot for a small boy to endure but he just got on with it.
We returned home on 4th November with a very weak, tired, sore, sick boy who had to readjust to this new normal of tubes and lines coming out of his body and all the sickness associated with the chemo medication. It was a hard few days and then he started to pick up a little.
Unfortunately, the following week, a high temperature highlighted that he had picked up an infection as he was neutropenic and unable to fight infection in the usual way. Back to our local hospital for another stay until the infection could be identified. We returned home 8 days later with some heavy duty antibiotics to continue with. We have been extremely cautious since, as every cycle of chemo brings with it the risk of low neutrophils and leaving him open to infection.
The months went by, and this boy just kept going. Giving us strength through his own. Even when he was very unwell, he never complained.
As the months passed, we grew closer to Rúairí needing Proton Beam Therapy. The Consultant confirmed that The Christie NHS Foundation Trust in Manchester UK would be the location for a duration of 6/7 weeks. While the HSE create the pathway and fund the treatment, they do not organise the stay. It is hard to absorb all this information and the worry of how are we going to manage this?
We were advised to contact The Gavin Glynn Foundation for help.
I touched base with John @ The Gavin Glynn Foundation and he responded immediately.
The comfort alone from someone just saying "we will help you" was amazing.
We provided a few essential pieces of information and John told me to link in again when we had our dates for pre-treatment etc. In January we were given our pre-treatment dates. We sent this info on to John Glynn and he had our flights, accommodation, transfers and expenses all organised in a matter of minutes.
Then he linked us in with Niamh Forrester and team at Aer Lingus to assist us through the airport. We were absolutely overwhelmed by the kindness of complete strangers. There were many tears that evening, but we knew we were going to be ok and get through this pre-treatment trip just fine.
3 weeks later, we had to return to Manchester for the actual treatment itself and again as soon as we provided the dates to John, he had everything booked in a short few minutes. The Gavin Glynn Foundation allowed the 6 of us to travel over and be together. The help they provided us with, took away so many worries during that time. We were able to focus on Rúairí and his brothers. They organised for the rest of the family to return home the following week and offered to bring them back at any time. There really is nothing that they wouldn't do to help. This charity has been a lifeline to us. John kept in touch throughout our time there in case we needed anything.
Rúairí finished his Proton Beam Therapy on 23rd March 2023, and will continue with his Chemotherapy at CHI Crumlin until the end of this year at least.
I'm not sure we will ever be able to repay John and Jayne Glynn and The Gavin Glynn Foundation for what they have done for our family. There are no amount to words that can ever really show our true appreciation of them.
We will continue to fundraise and spread the good word about them for many many years to come. Two amazing human beings.
We are eternally grateful.