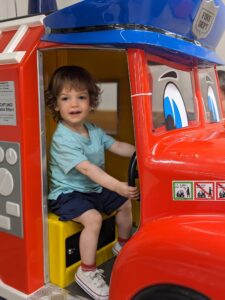 On July 8 '23 the world stopped for a moment when we were told our son, Rian, only 22 months old, had a brain tumour. He had been sick on and off for about four weeks prior to this moment where we had brought him to the ER and GP a total of 9 times. Always to return home with a reassuring response that it was most likely viral and would pass. He would bounce back and a few days later we'd repeat the process, all the while knowing that something mustn't be right. Symptoms were things like loss of balance, hives, vomiting and eventually severe lethargy and loss of appetite.
When we were finally admitted overnight, Rian kept deteriorating and eventually began to seizure. At this point he was taken for a CT scan where the tumour was discovered. A specialist team from Temple St came to collect him for an emergency procedure to relieve the pressure on his brain caused by Hydrocephalus. We had to follow by taxi, the longest ride of our lives. We were met at the door of Temple St by our consultant who informed us the procedure was done and Rian was on his way to ICU. A huge relief.
Three days later Rian had an operation to remove the tumour and thankfully they were able to remove it all. Our first major win. A biopsy in the following weeks confirmed that it was cancer, a posterior fossa ependymoma. The only recommended treatment being proton beam radiotherapy which had to be done in Essen, Germany.
Rian spent 5 weeks in Temple Street recovering from his surgery. He was then able to come home for a couple of weeks before we travelled to Germany. Rian suffered from posteria fossa syndrome following surgery which was very difficult at times, he also had right side facial pasley and damage to his vocal cords which caused issues with his swallow so he needed an NG tube to help with feeding. A lot of this thankfully began to improve as time went on.
To help us with our treatment abroad, the hospital informed us about the Gavin Glynn Foundation. We messaged John when we had dates for our planning trip and within hours he had everything sorted for us. The same for when we had to travel over for treatment. They took away all the thinking and hassle and made the whole process extremely easy so we could completely focus on Rian.
John continuously checked in with us and kept in touch throughout our entire stay and I have no doubt this will continue.
Rian is now finished radiotherapy and right now he's doing great as we move into our observation phase and we're praying that will continue. We will forever be grateful to the incredible teams at Temple St, Crumlin, Essen and, of course, the Gavin Glynn Foundation for everything they have done for our family in this past year. It means the world to us. Thank you!