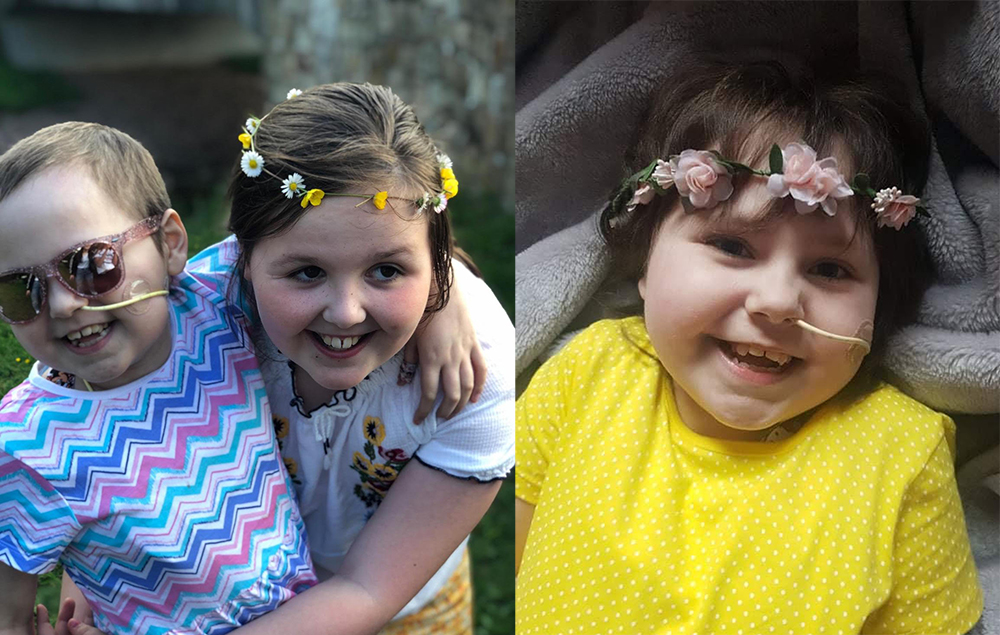 Our whole world was turned upside down in February 2015 when RoisÍn was 3 years old and her health took a turn. After constant visits to the GP over a number of weeks with no signs of improvement I took RoisÍn to Clonmel Hospital where they knew straight away how unwell she was and within an hour we had her diagnosis of Acute Lymphoblastic Leukaemia (ALL). That night she was immediately transported to Crumlin and the next day began a combination of different chemotherapy drugs for a duration 2.5 years. It was a blur of reoccurring bowel infections and long hospital stays.
In August 2017 Roisín was finally able to begin her childhood once again by starting Junior Infants. She had a fantastic year, making great progress educationally and socially. Just one year later in August 2018, we discovered that Roisín (7yrs) relapsed. The cancer had returned and the fight began once again. Roisín immediately started treatment, which consisted of a combination of chemotherapy and cranial radiotherapy for central nervous system disease. RoisÍn became really unwell in the first month of treatment with an ecoli infection in her bloodstream and developing sepsis from this. She ended up spending the first 6 months of treatment in Crumlin and got home at the end of January after 15 sessions of cranial radiotherapy which she travelled from Crumlin to St. Luke's in Rathgar everyday.
Roisin now 9 had a fairly steady road up until November 2020, with just 3 months of treatment left, when she had a sudden onset of pain in her shoulder. She was being treated for suspected Septic Arthritis which when further investigation took place it was discovered that she had actually relapsed again. Roisín has spent 6 of her 9 years on this earth fighting. After a second relapse, her treatment options became limited. Together with international specialists from all different countries, Roisín's consultants decided to put her forward to CAR T cell therapy in the United Kingdom.
Thanks to state funding, The Gavin Glynn Foundation, and the amazing team at Crumlin, Roisín travelled to the Royal Children's Hospital in Manchester to receive this amazing treatment that is not yet available in Ireland. At the end of November we travelled to Manchester for one week to be assessed and begin Apheresis. (This means that her T Cells were extracted and sent to America where they will be genetically altered to battle her cancer). On return RoisÍn came straight of the plane from Manchester and back to Crumlin hospital to begin chemotherapy to control the leukaemia until her cells had come back from America.
On the 5th of January 2021 RoisÍn woke with sudden onset of pain and discomfort which rapidly increased within hours. Roisin was all set to fly the following day back to Manchester. We went to Crumlin to have her pain assessed and she was not fit to travel for treatment in Manchester. While RoisÍn was waiting for a MRI over a few days she deteriorated quickly and her pain became unmanageable. MRI findings showed inflammation in her muscles around her pelvic area and tummy and back plus fluid on both hips. Further tests to see what was causing it kept coming back inconclusive.
RoisÍn was unable to walk stand and movements in the bed even became hard to achieved. Medications helped RoisÍn in the short term but once stopped symptoms became worse. She needed another mri followed but not biopsy's which once again showed nothing. RoisÍn consultant decided to start her on an targeted immunotherapy drug called Inotuzumab which she had on a friday and by Monday RoisÍn was pain free and up and walking again. Which all points to the inflammation and pain being diseased driven.
Earlier this week RoisÍn has thankfully, on short notice got to Manchester to start her re infusion of her new CAR- T cells. She will be here for at least 6-8 weeks. Which is really hard on everyone in the short term especially her big sister Ava (10) at home. But we are grateful to have this opportunity to be here for this newest treatment available and especially during a global pandemic. We are forever thankful to John for helping us every step of the way and is only ever a text message or a call away. When all you can focus on is getting your child better John is there to cover everything else so you can do just that. Cora (RoisÍn's Mammy) #teamgavinglynn #neverevergiveup #ChildhoodCancerAwareness