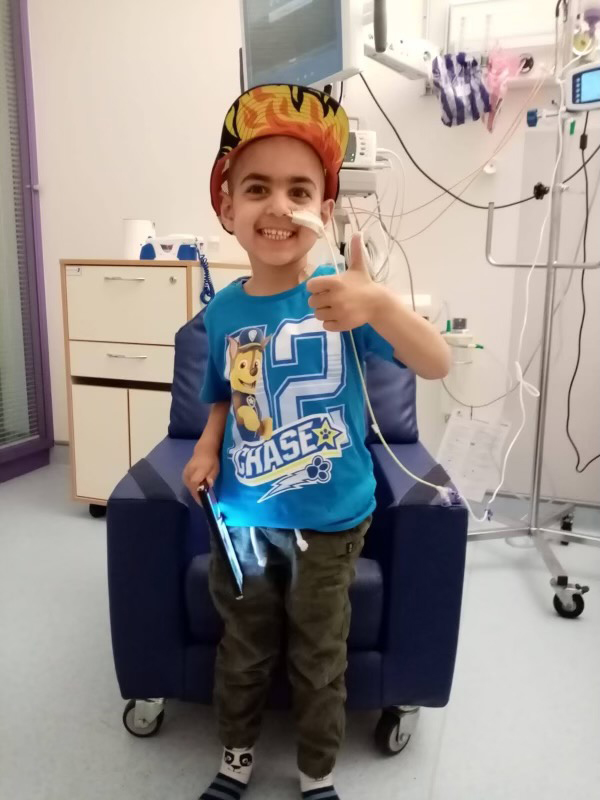 Nahyan is our first born, our first love. He is going to be 5 in January. He is such a caring, loving and sweet boy. He was diagnosed with cancer when he was 4 years old. Nahyan would wake up in early hours of morning vomiting nonstop for several hours. We took him to the GP got his bloods done, got his stool sample checked but everything came out fine. And then one day he started complaining of leg pain after playing on the trampoline. We first thought it's because of playing too much. We never in our wildest dreams would have thought of it to be cancer. We took him to drogheda hospital on 1st of May and got the devastating news 3 days later. I still wish we had found about it sooner before the leg pains started so that it wasn't spread as much as it is now.
Nahyan has Neuroblastoma stage 4 which has metastasis everywhere in his body. When the doctors told us all the things he will be going through in the name of cure we were so disturbed and sad that how our precious little boy will go through all this. Nahyan has so far went through 9 rounds of chemotherapy, thoracic Surgery and BuMel stem cell transplant. The next step in his treatment is radiation therapy which the doctors suggested for proton therapy due to the location of the tumour. For proton therapy we had to travel to Germany for 6 weeks.
Our social worker told us about a foundation that helps with travel expenses. We contacted them via email and soon received a phone call from John Glynn himself. He told me what they do and how they will help us. I still remember him telling me "you just have to pack your bags and we'll do the rest". And they have literally done that. They have helped us with everything regarding our stay in Germany. Our flights, accommodation and everything else was sorted out by John himself.
We are in Germany now and Nahyan is enjoying his two weeks gap before the treatment with his little brother. We are so happy and lucky to be able to travel as a family. Now Nahyan will start his radiation on Monday. He will have 12 sessions of radiations altogether. Hopefully everything will go well. We are really thankful to The Gavin Glynn Foundation for all the support we have received from them.