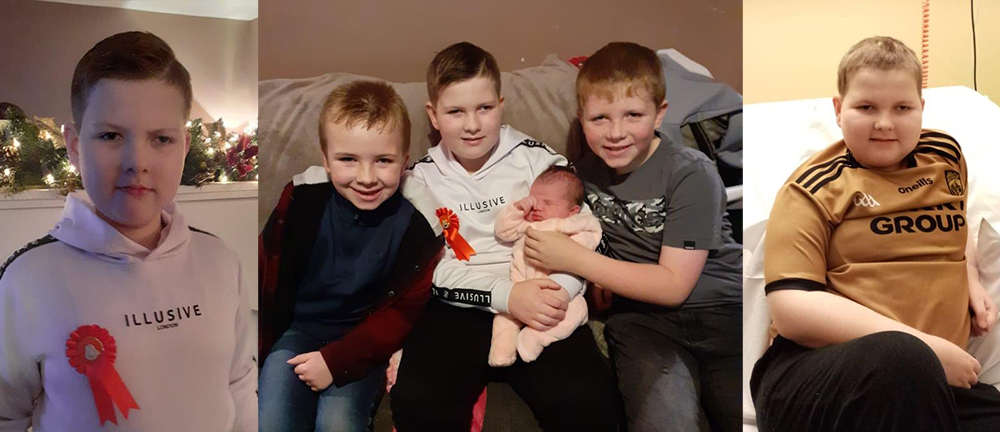 In 2015 we got the devastating news that Killian had ALL (acute lymphoblastic leukaemia) He was transferred from our local hospital to Crumlin where he started chemotherapy straight away. After been discharged from hospital, Killian had to go to Crumlin every week to receive his medicine. Killian did 3 and half years chemotherapy. Things were starting to get right for him he started going back to school and was able to go out playing football which he loves. He is a big man United fan, when 9 months after finishing treatment Killian started to become unwell again. He started vomiting after waking up in the mornings and throughout the day and had lost vision in one of his eyes again we brought him to our local and we were then transferred to Crumlin again to be told he had relapsed… and needed to have a bone marrow transplant more chemotherapy and radiotherapy this time as it had also came back on his optic nerve .. Killian's two younger brothers weren't a match so they got a donor from Germany who was a 100% match to Killian. He spent a lot of time in hospital before and during his bone marrow transplant. Everything was going well for Killian and again he started back to school and was able to play with his friends.
On the 6th of January 2021 (15 months after Killian had the bone marrow transplant), he became unwell again this time not showing much symptoms just temperatures his dad brought him back to our local for blood test. Later that day we got a call from Crumlin asking us to bring Killian up. The following morning there again we were told he had relapsed and again would need more chemotherapy, and also he would have to go to Manchester for CAR T Cell Therapy .. With the help from his amazing doctors and nurses in Crumlin and The Gavin Glynn foundation Killian is going to Manchester today with his dad Colin.
From the minute I got in contact with John from The Gavin Glynn Foundation he has been more than helpful to us and has taken a lot of pressure off us. We will be forever grateful to him and The Gavin Glynn Foundation for the amazing work they do. Killian is looking forward to getting this treatment so he can come home to his two younger brothers and baby sister who is only 4 months and misses very much.
xxx Shirley (Killian's mom )