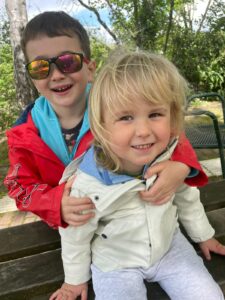 Jamie is my 3 year old little boy who loves playing singing and messing with his big brother. Jamie touches the hearts of everyone that gets to meet him with his personality that shines so bright! Jamie was only 17 months old when we got the devastating news that he had a brain tumour. In 2019 Jamie was rushed to temple street where he underwent his first 14 hour brain surgery to remove the tumour. Jamie has had multiple surgeries along the way along with oral chemotherapy.
In April 2020 we were given hope that all Jamie's scans were clear and he continued to thrive and was scanned every 2/3 months. Unfortunately at the end of 2020 following his MRI they found the tumour had regrown. After a lot of decision making and planning, April 2021 Jamie had another brain surgery of 12 hours, he was never willing to give up and kept fighting each step of the way. As always the team and staff in Temple Street are amazing and we will forever be grateful to each and every one of them who have taken Jamie into their hands numerous times and looked after him with such care and kindness. They are amazing at the work they do to save children's lives.
We spent Jamie's 3rd birthday in temple and the nurses on St. Gabriel's ward made it so special for him. The surgery went far better than we expected. Our next step on this journey is treatment in Essen which is where we are at the moment. Jamie is about to start Proton radiotherapy this week for 6 weeks and has already been through so much in his 3 years, he accepts everything that has come his way and continues to joke and put a smile on our faces every day.
We pray and hope that this is the last battle that Jamie has to face. Given 4 days' notice to be in Essen Germany with the help of John Glynn and his amazing foundation organising accommodation, flights ,transfers and everything that needed to be done to make sure we arrived in Essen for Jamie's treatment. This took away so much stress and we be forever grateful to everyone that has helped us and to all our friends and family who have supported us on this long journey and to the Gavin Glynn foundation and all the work they do is amazing.
[/av_textblock] [/av_one_full]