[av_textblock size=" font_color=" color=" av-medium-font-size=" av-small-font-size=" av-mini-font-size=" av_uid='av-k81ky3dw' admin_preview_bg="]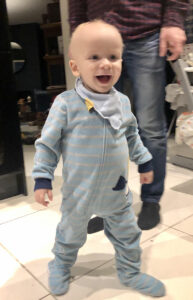 Frankie is our 1 year old son. He loves music, dancing around our kitchen and would take up permanent residence in the playground if we let him. He can play peek-a-boo for hours, and always finds a way to make us laugh. He is such a happy and sweet natured boy. He is our only child and the love of our lives.
In August 2019 we became concerned about Frankie. He had been unwell for a number of weeks and then we discovered a lump below his rib cage. After several trips to the GP we were given a referral for an ultrasound. We knew something was wrong and decided to take him to A&E. It didn't take long for the team in Temple Street to discover a mass in his liver. By the end of the day Frankie had been transferred to Crumlin where he was quickly diagnosed with Hepatoblastoma, a rare form of childhood liver cancer. There are only 2 to 3 cases of Hepatoblastoma in Ireland every year. Unfortunately Frankie's tumour had grown through the main vein from his liver into his heart, a complication that only occurs in 1% of patients. Frankie began chemotherapy within days in the hope this would shrink his tumour, unfortunately it has been extremely slow to respond.
In December 2019 Frankie successfully underwent surgery in Crumlin hospital to remove a section of the tumour from his heart. This was a huge step forward in his treatment. Frankie now needs a liver transplant under the care of Birmingham Children's Hospital. We are travelling to Birmingham this weekend to hopefully begin this process.
It's such a worrying and uncertain time to travel but we are so happy to be moving forward and our little boy has the opportunity to keep fighting. Frankie has been incredibly brave and strong, he's far more resilient than we could have ever imagined.
We are forever indebted to the doctors, nurses and staff in Crumlin who take such good care of our little boy.
Unending thanks to John and the Gavin Glynn Foundation for all their help x
[/av_textblock]
[av_social_share title='Please share Frankie's story -' style='minimal' buttons='custom' share_facebook='aviaTBshare_facebook' share_twitter='aviaTBshare_twitter' share_linkedin='aviaTBshare_linkedin' share_mail='aviaTBshare_mail' av_uid='av-k81kznv5′ admin_preview_bg="]