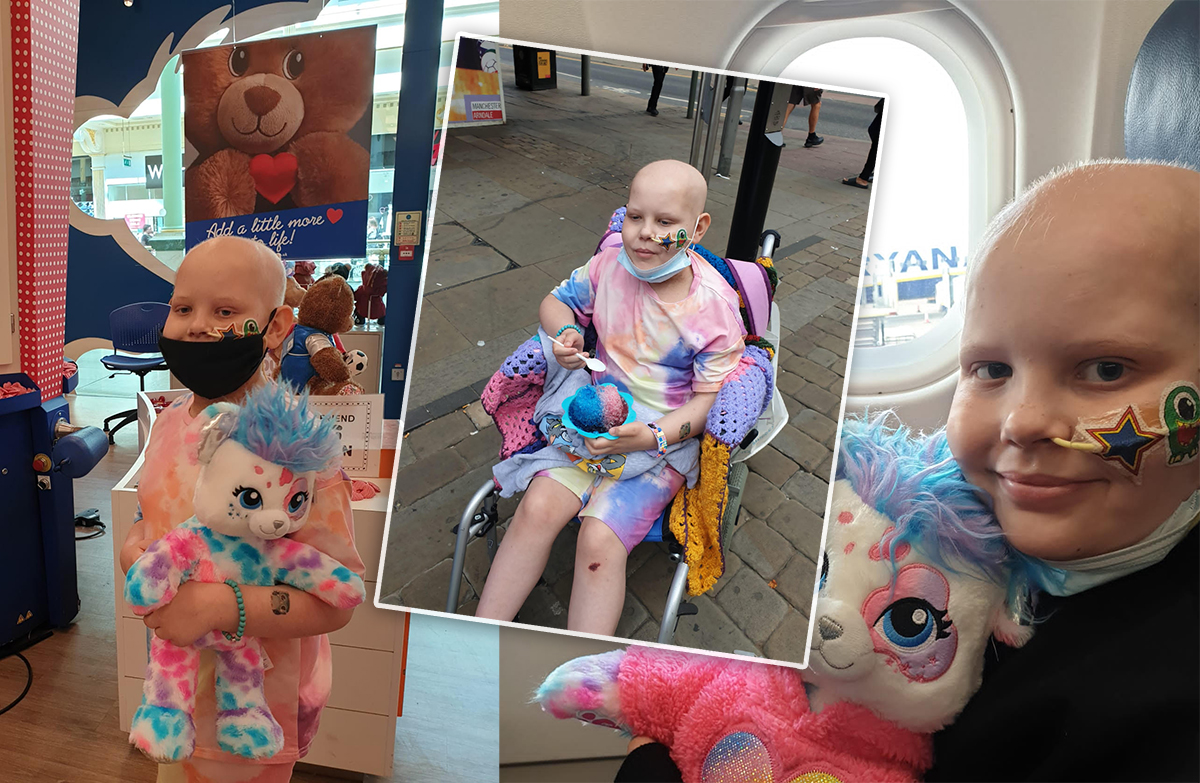 Easter 2021 Aoibhe had an itchy eye, by Easter Saturday her eye was swollen of course as it was a Bank Holiday weekend no Doctors were open and Aoibhe wasn't feeling unwell I decided Doctors visit on Tuesday would be needed if bathing her eye didn't work. Aoibhe had a great weekend with the Easter Bunny visiting both her and her sister Clodagh. Easter celebrations limited to us and Nana and Grandad (Buddy) due to Covid but all good apart from a swollen eye. Doctors appointment 12 o'clock Wednesday straight to Crumlin hospital for 2 o'clock cancer diagnosis that afternoon. Such a whirlwind like a train hitting us. We were all ready to fall apart but not Aoibhe even that day she had the Doctors and nurses laughing and it's been like that since.
Aoibhes tumour is inoperable due to its location so the treatment was going to be chemotherapy and radiotherapy. Aoibhe wanted to know all about her treatment and would she be back in school in time for her First Holy Communion. When Aoibhe was told she would lose her hair due to the treatment and was told about the Little Princess fund and how they make wigs for little girls like her she decided to get her hair cut before it got a chance to fall out and donate it to the fund so she could help others like her. Heart breaking for all of us but again shows the strength Aoibhe has shown throughout this whole time. Aoibhe has had 5 chemotherapy sessions in Crumlin and is now on her way to Manchester for 7 weeks of chemotherapy and Proton. Some days have been very hard when Aoibhe couldn't get out of bed, eat or drink her feeding tube ensures she gets enough to help her body through the treatment but on the good days Aoibhe is up and happily playing with her friends and family. They are the days we concentrate on as they show Aoibhe for the true fighter that she is, still entertaining us and making doctors and nurses laugh.
It was been a very hard road with days when I as Aoibhes mother can't think straight about anything that's where John from the Gavin Glynn foundation came in organising flights accommodation transfers from the airport and to the hospital to say he is God Send is an understatement. Aoibhe and I and the whole family would like to thank John for all the out of office hours calls and texts for the help from the Gavin Glynn foundation. Aoibhe still has a hard road in front of her but the support shown by friends,family far and near, our local community who have been fantastic and the Gavin Glynn foundation has been unforgettable and so appreciated.