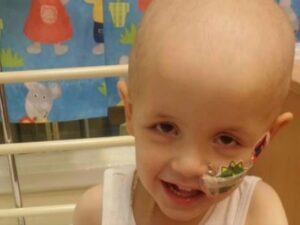 On the 10th of August 2018 we were given the devastating news that our baby boy Odhran (then only 2yrs and 9months) had a bladder Rhabdomyosarcoma (soft tissue tumor) Odhran's symptoms happened all over the space of 24 hours. He went from been able to pass urine to not and been in complete agony. We had brought him to our local GP who gave us an antibiotic thinking it was a UTI, and also a doctors letter if he was no better by the weekend . That Sunday came and he wasn't any better so we packed up and went to our local hospital who in a brief examination with bloods and urine test said it was a UTI to go home and the antibiotics should work.
We brought him back twice more that week until he was admitted as an inpatient. That Thursday they did an ultrasound but only scanned the top half of his bladder, which did show inflammation. At the stage his bloods were still off and they were none the wiser. The hospital was willing to send us home with no answers even though Odhran was is a lot of pain. Only for that we stood our ground they kept us in over the bank holiday weekend. The following Tuesday they scanned him again and the full bladder this time and as clear as day you could see something in his bladder that had been there for months according to the doctor preforming the scan. We went back up to the ward and were told that we were been sent to Crumlin for a procedure for Odhran to have a camera put up into his bladder.
The doctors in our local still trying to convince us nothing was wrong and that it was just a blood clot .Everything has been a whirlwind since then. Odhran has had 8 rounds of chemo since then and responded well. But all the chemo and been away from his bothers and baby sister has been hard on him. Our next step is to travel to France this Saturday for reconstructive surgery on his bladder and Brachytherapy. (Brachytherapy is a form of radiotherapy where a sealed radiation source is placed inside or next to the area requiring treatment) We will be in France for a total of 21 days. I think only for we listening to our gut and persisted with the doctors we might not be in as good of a position today with him. He is a tough fun loving kid who is full of energy and living his life to the fullest. It's never a dull moment with him around.
---
Update:On the 16th of February we set of for France, it was hard leaving our other kids behind but they were being well looked after by their nanny Mary. We arrived in Paris and had a day to settle before all the appointments. Shortly after arriving in a hospital in a Parisian suburb Odhrán underwent a procedure that lasted over 7 and half hours to have rods inserted for the brachytherapy and he had his right testical moved to his hip area to keep it safe from the radiation, after the procedure and after some recovery in the icu he was transported to another hospital to undergo the brachytherapy.
Over all Odhrán had 143 rounds of radiation over a 6 day period, each session lasting a total of 13 mins, every hour 24 hours a day, after the radiation Odhrán was then brought back to the first hospital to undergo another procedure to have the rods removed and his testical put back. After a few days recovery Odhrán was ready for the journey home, he could not wait to get home to see his brothers Sean Cody and Kaiden and his little sister Holly, and all his family, On the 10th of March we arrived home, he missed everyone so much, they all missed him! But shortly after arriving home he had to head in for another 3 day inpatient Chemo his 9th and final round on St Patrick's weekend. After all the dust settled, in May maintenance chemo was the next step for our little hero, with the finish line of September awaiting for him to ring that "end of treatment bell"
Since arriving home Odhrán has developed some after affects of the radiation treatment he received in Paris, his bladder and pelvic region is inflamed, the radiation did the job on his tumour but for the moment he has had a superpubic catheter put in to help his bladder heal and empty, he has been in a lot a lot of pain but the doctors are confident the inflammation will recede in time, Since we first talked to John, the Gavin Glynn foundation has been with us every step since, not a week goes by without John checking to see how Odhrán is.
Not a day went by in Paris (a strange city) when John didn't call or text to see how we all were. Without Johns help, going to France with Odhrán would have been an enormous task that would have had a lot of stress and worry along with it but thanks to John he took a lot of that worry and stress away from us, the work that the Gavin Glynn foundation does is absolutely amazing, they go above and beyond to help the families who have to travel for treatment! We cannot thank you all enough.