10-03-2016
Mike's Story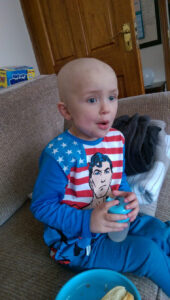 Mike was born in August 2012 , we were the happiest couple in the world that day. We had been trying for a child for nearly 10 years ,in fact we had kind of given up. Then as we were contemplating heading down the IVF route a little Miracle happened,  on X Mas eve 2011 my wife Carmel announced our dreams had come true , we were indeed pregnant and Mike was on his way.
We have been a happy little family since then we even dubbed ourselves ( Team Tracey) ? .  In the end of October 2015 i found a small lump on mike's cheek while he was sleeping, i wasnt very worried about it as he had a small cold at the time with a cough and phlegm so i thought it may have been a swollen gland or a lymph node but as a precaution i brought him to the Doctor the next day. The doctor said as i thought that it was a swollen gland and would subside in time, however what had started as a pea size lump grew in size over the next 2 weeks and became Walnut size and really stood out, i decided to go back to the doctor and this time the second doctor said he would refer him to Crumlin hospital for review.
We went to Crumlin the next day and were given an ultrasound of the lump and also given an appointment to see the ENT consultant 2 days later. He decided having reviewed the ultrasound that the lump would need a biopsy so an appointment was made to have a fine needle inserted into the lump and to remove cells to see if there was anything nasty going on.
The biopsy was done on the 25th of November and we were told to go home and wait for the results. We heard nothing until the morning of the 27th when a nurse called and asked us to come to Crumlin at 3:30 that day. I knew from that moment that our lives would change forever as no hospital drags you in to give you amazingly good news, if its all good they sing down the phone ,if they want you in its gonna get complicated.
Carmel and i arrived at the outpatients clinic at 3:20 both very nervous and shaking with worry. The nurse told us they would be with us very soon. We were called into the ENT( ear,nose and throat) consultants office and he introduced us to another Consultant who he said was an Oncologist. I dont remember hearing his name although it was said, as from the moment i heard Oncology i knew we were being given the hoffific news that our Boy had Cancer. Even though i heard every word and understood everything that was being said i was numb ,fixed to the chair, if it hadnt been under me i would have been on the floor, it was like being hit by a train. The Doc still hadn't said Cancer, he said tumour and gave it a name ,it was Rhabdomyosarcoma a big name for a small lump. Im not sure how long we spent in that office talking but inside i had fallen apart ,i tried to be a big brave Man but i couldnt i just sobbed like a baby and all i remember was being held by my Wife who was heartbroken and sobbing too. Its a moment no parents should ever have to go through, we left the hospital and went back to Mike.
It was hard to tell our families as we still hadn't absorbed the enormity of what we had been told. The next few weeks were the busiest ever, mike had 4 general anesthetic for several procedures and scans in 10 days and we were given his chemo schedule which we started on the 10th of December, we ended up in hospital with a very sick boy on Christmas eve and Santy had to deliver to the hospital because mike was so unwell ,we had a 4 day stay on St Johns Ward the second home for all paediatric Cancer patients in Ireland , also we spent New Years Eve in St Johns so our year started surrounded by parents in the same boat as us fighting to keep our kids well and trying to end the nightmare that Cancer is.
Its hard work being on the ward but the staff are amazing and they make the treatment as easy on the children as they can.Our Lead Oncologist has been very upfront with us and doesnt sugarcoat anything he is kind and very understanding towards all parents.
We were told by our Lead Oncologist of the chance Mike could have of travelling to Holland for a specialist treatment called Brachytherapy as he seemed an ideal candidate, the scans and files were sent over and the team in Amsterdam agreed to treat him. This is when The Gavin Glynn Foundation arrived into our lives , i received a message from John Glynn saying that he was already on our case and that he was there for us anytime. One thing we have learnt since Mike's diagnosis is that people are amazing and that some people are just meant to enter your life, Super Gavin Glynn had popped onto our radar some years ago when John and his wife Jane were looking for help to get their son to America for treatment and at the time we donated to the fund in the hope that what we gave would help in some small way. We followed his story the whole way and its amazing that his story hasnt ended, we have bec
ome part of that same story only this time Gavin and his wonderful parents are our Superheroes, the foundation has stepped in and taken away all our worries in regards to travel and transfer to Amsterdam for Mike's big Trip. We only have to think about turning up and being there for Mike the rest is organised for us, Just Amazing.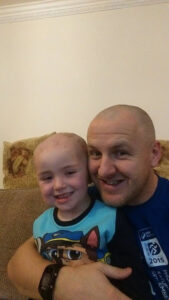 John had met Mike in Crumlin a couple of weeks ago before a scan and he instantly made a connection with him, mainly due to a Captain America Figure John had brought for him but the connection was made and today John came to the house to sort out the dates of travel and him and Mike were on the floor of the front room playing with Mike's Superheroes, it was like watching two buddies having fun although the superhero link brings Gavin right into the middle of it, and im sure Gavin was only too happy to see his Dad bringing fun and laughter to another Superhero in his Name.
Thats how important The Gavin Glynn Foundation is to all parents travelling for treatment without them we would be in a very tough position with more on our plates than we could hope to handle.John and Jane we will never be able to thank you enough for all your help and Super Gav thanks to you our boy gets his best chance.
Brian Tracey
MILE STORY 1 YEAR ON (Michael Tracey Update Mar-Apr 2017)
Well it's been a Full year now since we travelled to Holland for Mike's big Trip and it's time to update his story.
We already told you of how Mike was Diagnosed in November 2015 with Rhabdomyosarcoma and how the Gavin Glynn Foundation stepped into our lives when we needed help, so we will start on the 30th of March 2016.
We had all our treatment and surgeries booked for April in the AMC Children's hospital in Amsterdam, Mike was due to have his tumour removed first then he would have 32 rounds of Brachy Therapy in 4 days and then after a few days' recovery he was going to have facial reconstruction surgery. It seemed like a lot to put a 3yr old through but we had been told it was his best chance of full remission and the team in Amsterdam were Amazing and very clear in what they were expecting from the procedures.
All the medical side was in place and we had a full understanding of what was ahead, also John from The Gavin Glynn had taken over in the organising of the flights, accommodation and transfers so we were set to go.
We were treated like royalty from the moment we were picked up at the house till we arrived in Amsterdam. We stayed in the Ronald Mc Donald house beside the hospital and our room was great. The Medical team directed a Junior Doctor to be our liaison for the whole time we were there and she went everywhere with us. We also had a play specialist assigned to us for our entire journey through the procedures and this was amazing as she not only looked after Mike but also us when he was going to theatre and post op's.
Anyway, Mike went into Surgery on the Friday morning, they spent 7 hours in all removing the tumour and placing a special plastic frame into the tumour site so the special radiation called Brachy Therapy could be done. He was then moved to ICU for the next 2 days. He bounced back quickly from the Op and was the life and soul of the Oncology ward while they got him ready for the isolation of the Radiation stage. He was moved down to the Brachy Radiation ward 4 days later and began what was a very tough 4 days. Every 2 hours we had to leave the room for 15 minutes while the Radiation was delivered to Mike's Tumour site via very thin wires that protruded from his face. He was locked inside what can only be described as a bunker that had a sliding door that sealed the room whilst the radiation was on. He had a video link to us in a side room whilst this went on and this happened every 2 hours for 4 days, this meant mike had to stay in the bed throughout this and he had to entertain himself alone for 15 mins which is tough on a 3-yr. old but he did it like a champ with the help of his I Pad and superhero's. When the 4 days were over we were moved back up to the Oncology ward and a short period of recovery. Then he was off to have the plastics team reconstruct his face, this operation was scheduled to be up to 10 hours in duration but due to the skill of the surgeon on the original surgery the plastics team had to do a lot less work and so 6 hours after bringing him to surgery our boy was all finished. We were delighted with how it had gone and the surgeon was so skilled in everything he did that even 2 hours after the op mike looked amazing with no sign of the Bump that was his tumour.  We spent another few days in hospital but as he bounced back so well again they released us a few days earlier than expected and we only had to pop in and out over the next for a few check-ups and tests.
All through this The Gavin Glynn foundation were in constant contact and nothing was a problem for them to sort. We were in Holland, Miles from home and although some nights were lonely or tough we never felt Alone, the support from the Foundation was amazing and we can't speak highly enough of them. Mike recovered well and before long we were back home and he had a further 4 rounds of Chemo in Crumlin.
We were given a full set of scans in July and were fortunate that when we met our oncologist in August he told us Mike was in remission and that no further treatment was needed at that time. The relief was immense however as any parent of a child with a cancer diagnosis will tell you the worry never leaves and we are constantly worrying especially when we return for routine scans every 3 months, the tension mounts and so far after 3 visits back Mike is fit and well.
His hair is back and his body has gained back all the weight he lost during treatment, also he is growing at a rate of Knots and is quite tall for his age, he reckons it's the Hulk Radiation they gave him in Holland. We have come so far in a year and a half since his diagnosis and thank our lucky stars that the Gavin Glynn Foundation not only stepped in and took away all our worries when we needed help but also that Gavin's Mam and Dad never gave up in their hardest times and as it turns out were pathfinders that lead our boy to Holland and the Treatment that he needed to save his life and leave him with as little damage to his face going forward. I can't overstate how important this charity is and we know other families who have had the benefit of their help who Love them just as Much as we do.
TeamTracey