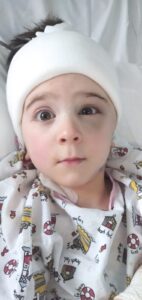 Matteo is a busy boy, who doesn't like to sit still for too long. Happiest playing outside, he loves lego, tag, blowing bubbles (more so popping them 😊), going to GAA and playing with his friends and cousins. On the 5th of March 2022, two weeks shy of his fifth birthday, life was turned upside down.
He had been vomiting on the Friday and seemed very wiped on the Saturday morning. Suspecting dehydration, we brought him to the Children's Emergency Department in Tallaght Hospital. They were immediately concerned and after various tests, the consultant ordered a CT, which revealed a 5.5cm mass on the left side of his brain.
The team there were amazing and didn't delay in getting him straight to Temple Street, while reassuring us as we took in the bombshell news. By the time we had arrived in Temple Street, they were fairly certain it was a tumour and an MRI revealed the full extent of the situation. Mr Kieron Sweeney removed 90% of the tumour in a five-hour emergency surgery and went back in 10 days later to remove the rest of it. He bounced back quickly from the surgeries and was soon back running around as usual.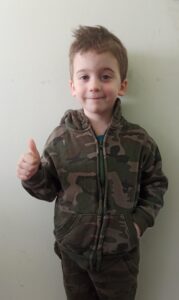 On the 30th of March, however, we got the news that the tumour was malignant and that Matteo would need further treatment. Devastated that our little boy had been diagnosed with such a serious illness, we tried to contemplate what we were facing. We were advised by our oncologist Dr Michael Capra in Crumlin, that Proton Beam Therapy is the preferred radiation treatment for children like Matteo, and that it is available at the WPE in Essen, Germany and takes approximately 6-8 weeks.
As a family of five, in the middle of completing a self-build with rising costs, we had no idea how we were going to manage such a trip. In steps the amazing Gavin Glynn Foundation. John had our flights, accommodation and transfers, as well as expenses, arranged for our initial two-day planning visit, nearly before we'd even figured out if our passports were still valid having not left the country for two years! We will never forget the feeling, knowing the financial weight of the journey was being taken off our shoulders and that we could concentrate on getting Matteo, and us as a family, through what he faced.
Thanks to the TGGF, the five of us are now in Essen and Matteo is getting on well with his treatment so far, aided hugely by being able to play with bigbrother Enzo and big sister Adrina, and have a bit of normality after his visit to the WPE each day.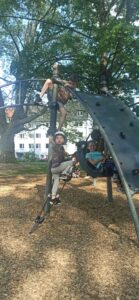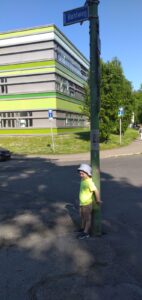 Our families and friends have also been a huge support on this journey, and we'll forever remember and appreciate how everyone has rallied around us with practical and emotional help.
I had signed up for the Women's Mini Marathon on the 4th of March with my friends. They are now all walking/jogging/running it in support of The Gavin Glynn Foundation as we have all seen first hand the really special work that it does and the support it provides families when they most need it.
A special mention to Niamh (Josh's Mum) for organising the Aer Lingus escort in Dublin Airport, it made that leg of the journey go a lot more smoothly with 3 kids in tow! We'll always remember Matteo checking us through in his Aer Lingus jacket!