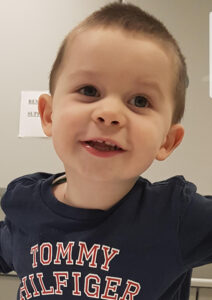 This is Jaxon he is 2 1/2 yrs old. He is a fun, happy little boy full of energy. He was recently diagnosed with Bilateral Retinoblastma. We had never heard of this rare cancer until the day Jaxon was diagnosed. We had taking him for all the regular check ups and at his 2 yr check up with the puplic health nurse we asked for a referral to an opthamolgist as had had a slight turn in his right eye she checked his eyes but didnt notice it but said she would send of referral due to his brother Jayden 8yrs old wearing glasses, we are still awaiting that appointment and on examing his eyes she didnt notice anything that we should be concerned about.
We never knew of signs to watch out for like a white glow in the eyes when you use a flash on a camera. We hadnt noticed any changes with Jaxon, until christmas day when his auntie pointed out that his right pupil looked a little larger than the other (looking back on photos of Jaxon now that we know we have noticed he had the "GLOW") We observed him over the next day and noticed that the eye was glassy in apperance. We took him to the GP on 27th Dec 18, after checking eyes she advised us to take him to A & E.
We took him to Temple Street, with it been christmas period the eye clinic was closed and they had to call for an opthamolgist to come down from the Mater hospital, he examined Jaxons eyes and said he could see a growth on his right eye and would like for a colleague to have a look at Jaxon. We waited anxiously for another consultant to come in to look at Jaxons eyes. After an ultrasound of Jaxons eyes the consultant asked us to go outside while he had a discussion and made some arrangements. I knew by the sound of his voice things werent too good. After sometime he called us back in thats when we learnt the devastating news that Jaxon had a tumour on his right eye in which he beleived was Retinoblastma.
We were told that we would need to bring Jaxon back the next day for a MRI and that we would need to arrange a passport for Jaxon to travel to Birmingham to see a specialist and have possible eye removal over there as Retinoblastma was not treated in Ireland. Jaxon had a mri the following day when we were delivered with more shocking news, he had a tumour on his left eye also.
Were in total shock christmas time is usually a time when family & loved ones share fun times together, we were faced with the most devastating news luckly we were surrounded by the most supportive family ever, the next few days were a bit of a blur. We waited anxiously for the call with the appointment to go Birmingham, we travelled on 3rd Jan. In Birmingham Childrens Hospital they examined Jaxons eyes and confirmed his diagnoses and put a plan in place. Jaxons right eye has a large tumour, he has no vision in his right eye and his left eye didnt have one but 3 tumours.
Luckly for Jaxon the tumours in his left eye are not effecting his vision at the moment. The plan that was put in place for Jaxon to undergo 6 cycles of chemotherapy here in Crumlin hospital and to travel to Birmingham every 3/4wks before a new cycle of chemo starts to monitor the situation they have also told us that if they feel that they can no longer control the tumour in the right eye they will need to remove it and do some lazer therapy on his left eye if possible hopefully each month before the new cycle of chemo. Jaxon has had 2 cycles of chemo and one session of lazer treatment to date.
Everything has happened so quickly, we had to overcome the shock and try stay positive, gain strenght to fight this battle for Jaxon. We are very thankful & forever grateful of all the help and support from all our family and friends. Also a special thanks the Gavin Glynn foundation for your support we really appreciate it so much, having to travel for medical care for your child is very stressful and known that you are taking care of things gives us more time to spend with Jaxon and family without the worry of planning of our next trip for treatment.