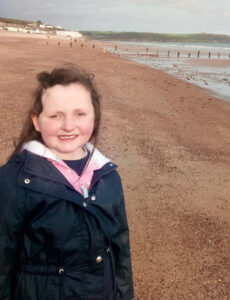 The 9th of Feb 2014 was a Sunday. We'd just finished lunch. Izzy's grandparents were with us too. An hour later wed found ourselves in CUH in Cork City. 
I'd found a huge bump on Izzy's right temple… 
We knew but we didn't know, I we met amazing nurses & docs who told us the devastating news that Izzy had a mass in her brain on the right side. A really big mass which in all likely hood was a brain tumour & so began Izzy's journey of survival. 
That night in a blur of stressed phone calls. Breaking the news that we were in big trouble we found ourselves heading for Temple street which would become our home for 9 weeks. 
Tuesday morning myself & Izzy's dad brought her into theatre for emergency surgery. I sat with her laughing & joking, keeping everything upbeat & happy as she fell asleep.Beyond heart-breaking. 12 hrs later we got to see Izzy in ICU. So many wires & tubes. Very scary times!
They had taken 90 % of her tumour which we would later find out that it's a grade 4 Glioma. That 10% left was actually attached to the brain stem & was way too dangerous to take anymore. Izzy had to relearn how to walk etc. as a result of the surgery she had lost all function on her left side and it would be 6 weeks before she would walk. Rehab was tough but as Izzy has always said throughout that she is way tougher…
Then began chemo & radiotherapy. Tough times too. So hard to watch your child go through it. Izzy had 3 more surgeries in the following 6 months. Each one setting her back a little more. On the 9th of Feb 2015 a year to the day of diagnoses we met her team in Crumlin to be told the tumour was still growing & that there was no treatment for Izzy in Ireland as we'd exhausted all the meds here & still it was growing. But … There was a trial. 3 days of test were needed & in April 2015 we headed off to London to Great Ormond Street Hospital. On our 4th day there the 1st of May 2015 Izzy began treatment & lasted 96 weeks & had almost 50% shrinkage of her tumour. But on the 9th of Feb this year a routine MRI in GOSH showed a new tumour. We were shocked & beyond disappointed. It has been a scary 39 months since Izzy was diagnosed & we are still in limbo as we have no end date in sight. We lost the trial in Feb with the news of another tumour. Since then she receives a new drug on compassionate grounds & is now 8 weeks on it. 
We now take it day by day & week by week. We are hopeful she'll beat this monster.We have so many people helping us through our journey. The Gavin Glynn Foundation have come into our lives at such a stressful time. We cannot thank them enough. Having a child with a serious illness 3 years on it can become such a financial stress on top of emotional stress. 
To have someone else sort flights & transfers to hospital in London wow we cannot tell you the relief of someone taking care of us. 
Amazing people!!  Thanks for reading xx Izzy's mum Emma xx