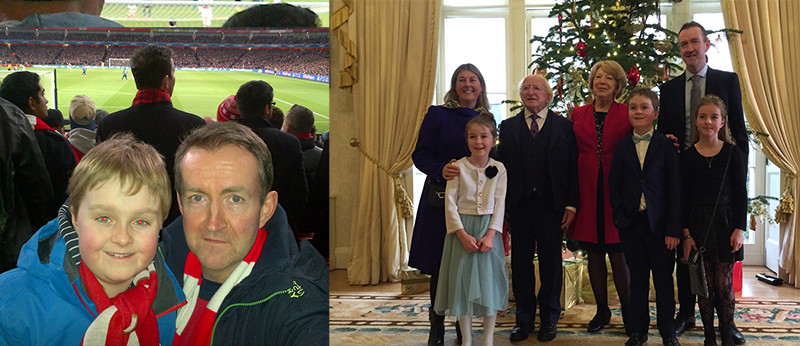 Harry is the nicest guy you could meet, and his family are very proud of him.
He's 11 years old and lives in Dublin with his Mum and Dad, his two sisters Grace & Lily, and his black Labrador Minnie. Grace is his twin and both she and Lily adore their brother.
Harry loves watching movies and is a big Arsenal fan. He's been to see them play in the Emirates stadium in London with his Dad. He also goes to see Dublin play in Croke park whenever he gets a chance. He loves football and basketball, and has recently got his yellow tag in Tae Kwon Do. He has a big responsibility at home as he keeps Minnie fit by playing football with her. He loves music and is well able to sing karaoke… Oh, and he loves his grub!
Harry was first diagnosed with a brain tumour on 15 September 2014. We will never forget the day we heard the news. On that day, his ophthalmologist referred Harry for an MRI when he spotted paleness in his optic nerve during a routine follow up after Harry had been wearing a patch for some months. He had also experienced a number of different issues that summer between apparent tummy bugs, loss of balance, headaches, polyps and a lack of energy.
We learned that the tumour is a pilocytic astrocytoma – essentially a low grade tumour. Thankfully the cancer had not spread and the long term prognosis was good. However, due to the location of the tumour just behind Harry's eyes, the tumour had caused a sizeable build-up of fluid leading to a condition known as hydrocephalus. His optics nerves were damaged and his pituitary function was also impacted.
Since the diagnosis, Harry has fought against the tumour very bravely and always with a big smile on this face. His first operation in 2014 was very successful in reducing the tissue but when it showed signs of growing again he underwent chemotherapy in 2015. This was tough on Harry as it caused a number of seizures so the treatment was halted in favour of ongoing monitoring. He then needed further surgery to address cysts that had developed on top of the tumour, and subsequently underwent another major operation to debulk the tumour in April 2017 when it showed signed of growing aggressively once more.
He has been fortunate enough to meet a long list of famous people along the way – including the Dublin football team, the Cork ladies football team, Bernard Brogan, Colm Cooper, Ryan Tubridy, Gunnersaurus (the Arsenal mascot) and Arsenal legend Eddie Kelly with the FA Cup. A real high-point was meeting President Higgins and his lovely wife Sabina in Aras an Uachtarain for the turning on of the Christmas lights in 2016!
In July 2017, Harry will travel to Essen in Germany for Proton therapy. We are very optimistic that this will help Harry beat the tumour once and for all, and be able to get back to normality as quickly as possible.
We are so grateful to John and the Gavin Glynn Foundation for their superb support. From the first contact we had, John reassured us immediately that the foundation would be able to help us – and in so doing has allowed us focus on looking after Harry and the girls.