Our son Griffin (aged 13) was diagnosed with a germinoma tumor on the pituitary gland on the 16th of August '17.
Griffin's first symptoms began back in Oct 2015, when he was admitted to Crumlin Hospital. He was diagnosed with central diabetes insipidus due to unknown abnormalities to the pituitary gland. We attended the endocrine unit for the following 18 months. Griffin is also on medication for thyroid function, cortisol levels along with being growth hormone deficient. Griffin underwent many blood tests, lumber punctures and MRI scans during this time. He underwent a transsphenoidal biopsy in Sep '16 in Beaumont Hospital where Griffin was diagnosed with inflammation of the pituitary gland. In July '17 another MRI scan showed more changes to the pituitary gland. This resulted in Griffin having a craniotomy biopsy in August '17.
It was then the Germinoma Tumor was discovered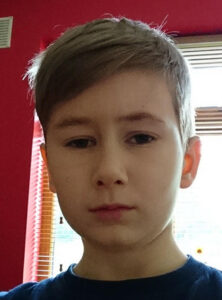 He has just completed his four sessions of chemotherapy in Crumlin Children's Hospital. As part of Griffins treatment we travel to Essen, Germany in January where he will receive proton beam therapy. It will take between three to five weeks to complete the treatment.
This has been a long journey with our son Griffin, a journey which has brought many challenges for Griffin and our family. Griffin loves his PlayStation/DS games and his beloved soccer team Borussia Dortmund.
As parents the enormity of travelling abroad for Griffin to receive this treatment has brought its own stresses.
Since speaking to John from the Gavin Glynn Foundation has lessened those concerns. The amazing work which is done by the Foundation brings great relief to families like us.
We sincerely thank John and his team in supporting our family as we embark on another stage of this journey.