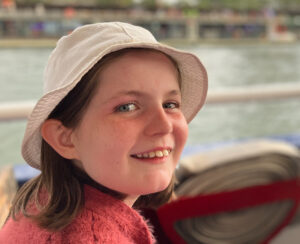 In was March 2021. Eve, a healthy, happy eleven-year-old from Co. Meath in Ireland collapsed in school. At first, we thought she had fainted. But when it happened again, we brought her to Temple Street Children's Hospital in Dublin.
Initial scans detected a tumour in the centre of Eve's brain. Because of the tumour's location in the centre of her brain, surgery was not possible and Eve started a courses of  radiotherapy and chemotherapy at Crumlin Childrens' Hospital.
Over the past 18 months, Eve endured countless hospital stays, pain, and hair loss, as well as the many other side effects of her treatment. Her chronic fatigue forced her to give up many of her favourite pastimes. But she faced it all with humour, spirit, resilience, and bravery.
In June 2022, Eve's cancer returned. Having run out of treatment options in Ireland, the only answer was to travel to The Gustave Roussy Cancer Hospital in Paris for a newly available drug, ONC201.
Thanks to this drug, Eve has been able to do so much. She could start secondary school , perform with her drama school, and see Disneyland Paris. Most importantly, she could spend time with her many friends and family. Eve is only the second Irish child to avail of this game-changing drug.
The Gavin Glynn Foundation stepped in and offered support not just for Eve, but for our whole family of four to travel with Eve to Paris.  It was very important to go as a family and for Eve's brother to see the treatment she was going to start.
The visit answered many of his questions, reduced his anxiety and helped him to continue supporting Eve.
TGGF (The Gavin Glynn Foundation) has helped us to work through Eve's illness as a family and look after each other. TGGF provided us with flights, accommodation and helped with the expenses.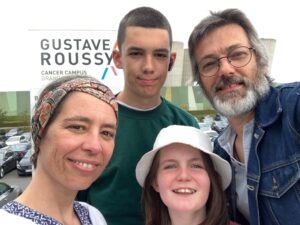 However, the real value of what they did for us goes way beyond the important financial supports. Taking on the organising of our trip to Paris TGGF took away the stress of travel and allowed us to focus on Eve's care.
Working with TGGF, Aer Lingus staff met us at the airport and fast-tracked us through security. Eve was still very fatigued and nauseous post radiotherapy. Being able to avoid queues made all the difference to her energy.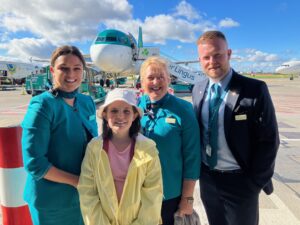 Passing through the even had a chance meeting with Katie McCabe, captain of the Irish Women's Soccer team.  This attention and care continued for the whole flight. The cabin crew could not have been nicer.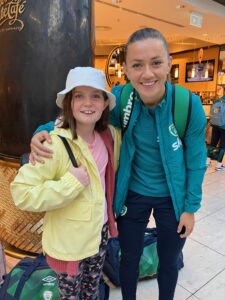 When we got to Paris TGGF had organised a taxi for Eve. She was exhausted after the early morning travel and immediately fell asleep in on the way to the hotel.
TGGF understood our needs intimately and thought of the details we didn't.
We cannot say thanks enough.
TGGF continue to support Eve and take away our stress when she returns to Gustave Roussy for check-ups and medication.
#teamgavinglynn
#aerlingus
#neverevergiveup
#childhoodcancerawareness