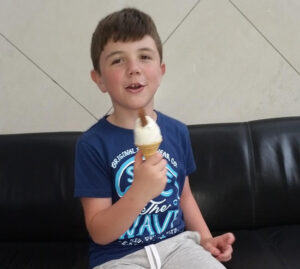 This is Daniel's story. Pictured above a couple of weeks before his diagnosis and one from the other day, down below.
Daniel was born on 11th July 2008. He was a very healthy happy baby and was never sick growing up except for the odd cough or cold. He has 2 little sisters who think the world of their big brother.
On Sunday the 12th June 2016 Daniel started to complain of a headache. We didn't think much of it, over the next few days the headache got worse and he was vomiting quite a lot. His eyes began to hurt and he found it hard to keep his head upright.  We brought him to our GP who advised us it could be meningitis. He was sent to Crumlin A and E where he was admitted and started on a course of antibiotics for meningitis. There was very little improvement in his condition and his headache and vomiting got worse over the next few days along with very painful eyes, he also had double vision. All the meningitis test the hospital ran were coming back clear.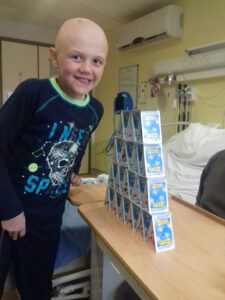 The decision was made to send him to the opthamologist who noticed he had very little movement in his eyes and that would indicate a swelling in his brain. He was sent for an MRI in Crumlin the next day where it was discovered he had a Nongerminomatous germ cell tumour growing in his brain, the tumour was blocking the fluid from draining from his brain. The build up of fluid is what was causing the headaches and it was putting pressure on the nerves in his eyes causing the pain, restricted movement and double vision.
He was sent to Beaumont the next day where he stayed for a week, he had surgery to relieve the build up of fluid and was discharged back to Crumlin.
Back in Crumlin we met with his consultant. They were able to determine the type of tumour it was from blood tests so thankfully no other surgery was needed. We were told Daniel would receive 4 rounds of chemotherapy, he'd get it for 5 days in each round with 21 days in between each round. He would have to stay in hospital for a week for every round of chemo. His first round started 2 days before his 8th birthday, we had a little party for him in St John's ward, he was quite sick from the chemo but he did manage to have some Minions birthday cake!! He finished his last round of chemo on the 16th September 2016.
The next step on his recovery is a 6 week stay in Essen in Germany to receive proton therapy. We were told the HSE would pay for Daniels treatment the rest of the expenses were up to us.
This is where The Gavin Glynn Foundation stepped in, after just one phone call to John all our worries disappeared. He assured us all our expenses would be covered. This was a huge weight off our shoulders and meant we had a lot less things to worry about.
Daniels diagnosis knocked us for six, it was the last thing we expected to hear. He is a very bright, healthy boy who was never sick. To hear your child has cancer is heartbreaking. We are one of the lucky ones, they expect Daniel to make a full recovery and for him to carry on as normal once all this is over. We will be forever grateful for all the help and support we have received since this journey began.