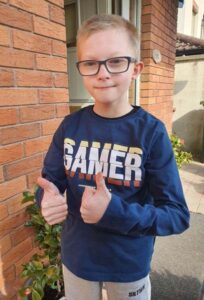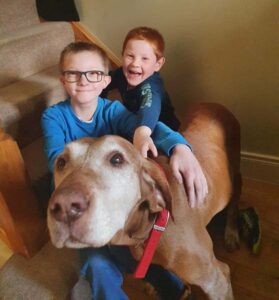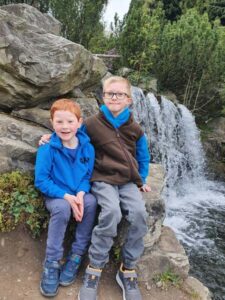 This is Cian, our 9 year old son and big brother to Seán who is 6. Cian is a very good natured, friendly and sociable child with a great sense of humour, who adores the great outdoors and his beloved dog, Penny. Cian enjoys playing Gaelic and soccer, going swimming and trips to Mondello Park to watch various motorsports.
On the Sunday 30th January 2022 Cian was having a relatively normal day when he suddenly vomited without feeling nauseous or showing any signs of being unwell. Over the next two days, Cians vomiting became more frequent with no food or water staying down so I contacted his GP who suggested it may have been something viral. By the Thursday, the vomiting had become horrendous retching so I took him to the A&E department of Our Lady of Lourdes Hospital in Drogheda. He was admitted overnight and given some IV and anti-sickness meds. It was suggested that it may have been a gastro bug, however his bloods were fine and the only symptom of a gastro bug he displayed was vomiting. When we got home nothing really changed, he continued to be unable to keep food down so 4 days later I took him back to A&E, where again we were told that his bloods were fine and that this was most likely a really bad gastro bug that could take 14 days to clear!! So off back home we went again. On the 13th February I took Cian back to A&E again, however this time I packed a bag and told my husband I wasn't coming back home with him till I knew what was actually going on as this was day 14 of vomiting!
Again in A&E it was suggested that this was a really bad gastro bug however this time antibiotics were also be prescribed encase he had a stomach infection. However I refused to take Cian home that evening and told the doctor that I wasn't happy to go home with him. He was too unwell and that there would be no way that I would be able to keep oral antibiotics in him. And so that Sunday evening we were admitted again. Over the next four days Cian did seem unsteady on his feet but after 14 days of vomiting that was being put down to rapid weight loss and dehydration. His head started to tilt and the vomiting continued. He had no headaches. The Consultant suggested that a CT scan would help her to rule in or out other possibilities. On Thursday 17th February Cian went for the CT and that's when we were told that the scan showed a mass at the back of the brain in the cellebreum. Within a few hours Cian was transferred to Temple Street to the Neurosurgical Department under the wonderful care of Ms. Tafadzwa Mandiwanza and her extensive team in St. Gabriel's Ward. After a very long MRI, they confirmed that Cian had a brain tumour and put a plan in place to remove it.
Cian had his surgery to remove the tumour on the 23rd February….all eight and a half hours of it! Almost 12 hours after handing him over in theatre, we got to see him again in ICU. There was nothing better than to hear his voice… "hi mam, where's dad?" Cian was initially recovering well after surgery however after 6 days it was necessary to go back to theatre for a shunt to be inserted. This was the same day as we found out that the tumour was cancerous – Medullablastoma. It's a bit like a bus hitting you getting this histology result despite the fact you knew it was a 50/50 chance.
From this point the oncology team in CHI Crumlin took Cian under their wing and devised the next phases of his treatment. They advised us that that the best option for Cian is Proton beam therapy (radiation) in Essen, Germany and herein entered the mention of the Gavin Glynn Foundation. We were told that this treatment would start within the next 2 to 3 weeks and that there was a lot to organise in the interim.
From the initial telephone call with John Glynn, it was so reassuring to know someone had your back with regard to the actual getting you to Germany and organising your accommodation, flights etc. and for us it is the fact that the whole family could be included in these plans was a huge comfort. Cian started his treatment in WPE on the 4th of April 2022 and it is due to last 6-7 weeks. It is so important as family to be together, especially for the sake of Cian and his brother Seán to at least try and keep some form of normality in these challenging times.
The foundation organised our initial planning visit flights, accommodation airport transfers and now the treatment phase accommodation which is basically a home away from home. John keeps in regular contact and has provided lots of helpful local information and suggestions on things to do…. All of which we are very much indebted to the Gavin Glynn Foundation and all its supporters as it makes this phase of the journey much easier.