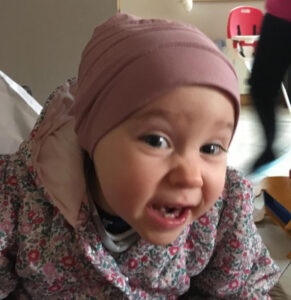 Chloe is a bubbly happy 22 month old girl, who loves her books and her toys and as her cousin said "when chloe smiles, it makes you want to smile". Chloe is our only child and on the 15th march 2019, 14 months old, Chloe was presenting with intermitting vomiting. Our GP sent us to Cork University Hospital (CUH) to have Chloe checked out, and maybe rehydrated as she taught Chloe had a gastric bug. There in the CUH, numerous tests were carried out and they said Chloe had an obstruction in the bowel but they were not sure what was causing it. An ultrasound showed Chloe had a large mass on her left side and they said she would need to travel to crumlin.
On the 17th of March after a CT scan, Dr Capra confirmed the unimaginable, our little girl had Neuroblastoma. When you hear you child has cancer for the first time your world falls apart and you feel powerless. The tumour, which originated from the left kidney area and spreading across her abdomen, had put pressure on her bowel causing a blockage leading to the symptoms that Chloe presented with initially. We were told the tumour was wrapped around vital vessels and smothering her organs, so at this stage not possible to operate.
On the 21st of March Chloe commenced her first round of chemotherapy. Chloe has had 6 rounds of chemotherapy in total in which she was amazing through it all and showed us what a warrior she is. Complications happened along the way, Chloe was also diagnosed with cardiomyopathy. Chloe's blood pressure was high all the time. Nephrology team were involved and said her left kidney was poor functioning causing her blood pressure to elevate. Chloe spent alot of time between Crumlin hospital and the Mercy hospital Cork. On the 20th of september Chloe had her operation to remove her left kidney and debulk the tumour. 85-90% of tumour was removed. As the tumour was wrapped around vital vessels it made difficult to remove anymore. We were advised Chloe would need radiotherapy to attack the remainder of the tumour. It was decided that Chloe would benefit from the Proton therapy in Essen in Germany to prevent damage to her remaining kidney and other organs.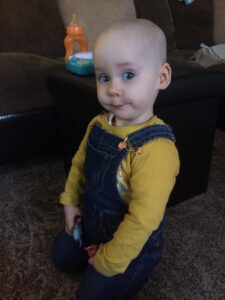 I heard about the Gavin Glynn foundation through family and other parents. I contacted John and explained our story and from the start I felt reassured. I knew we would have support from the get go. John has organised our flights, transfers and accomodation. We go over next week for Chloe's assessment and back again at the end of November for the treatment. We honestly dont think we could have organised the trip without John's help. We will be forever grateful for the support and assistance given.