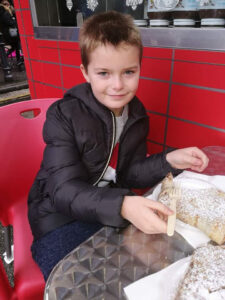 Alex is 10 and the youngest of our four children he has 21 year old twin brothers and a 17 year old sister who adore him. He is a very easy going, witty, sociable & loving child. He is often described as being wise beyond his years. He enjoys Soccer and hurling and is a loyal Man Utd & Clare supporter.
In March 2019 we noticed that he was getting very tired, no matter how much he slept. He also started to complain about headaches on the left side of his head. We took him to A&E and they diagnosed him with cluster headaches and asked us to keep a diary of them. The doctor gave us warning signs to watch out for but there was no pattern to the headaches. He could go a week without one and then have a headache for a few days. They were never matching what the hospital had said were warning signs of cluster headaches.
A few weeks later, one night at soccer training, he had what can only be described as an anaphylactic shock. We also noticed his face was swelling on the left side and then his cheek dropped so we went back to the GP. He sent us back to A&E and told us not to leave without getting a scan, that there were signs of an underlying neurological issue.
Alex had an MRI two days later and that's when the nightmare began. Our world collapsed when they told us what they found in the scan.
He was transferred that weekend to Temple Street for a biopsy and further scans and a week after the initial MRI, we received a phone call from his consultant to confirm that the tumour was rhabdomyosarcoma. We couldn't even pronounce it let alone understand anything else.
Alex's uncle Pete when researching rhabdomyosarcoma came across The Gavin Glynn Foundation and put me in touch with them. From the moment I spoke with John he put my mind at ease. He gave us some great advice & support especially in those early days. He reassured us that if we had to travel for treatment the foundation would support us.
Everything happened quickly once the diagnosis was confirmed, Alex started his first cycle of chemo within a few days.
Further testing revealed the rhabdomyosarcoma had not spread but due to its location it is unsuitable for surgery. The treatment protocol is 9 cycles of chemotherapy and Proton Beam Therapy. The Proton Beam Therapy isn't available in Ireland.
Alex has completed 4 cycles of chemotherapy and he requires 8 weeks of proton beam radiation in Germany alongside the chemotherapy. We will be travelling to Essen before the end of July.
The Gavin Glynn Foundation has taken away the stress of worrying about logistics and the financial stress of travelling abroad for treatment. The 8 weeks of being away from our family and friends is very daunting but the support given by John and the team has relieved some of the overwhelming aspects of this journey.