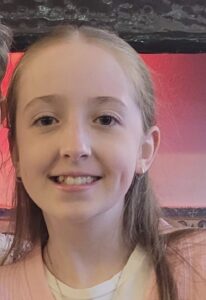 This is Aisling. She is 14 years old and loves music, arts & crafts and hanging out with her friends.
In March of this year, she had a couple of fainting episodes so her Dad and I brought her to our GP for blood tests. The results didn't show anything that explained why she fainted, and during April and May, she had 2 further episodes. We asked our GP to refer us for an MRI and after three MRI scans and a biopsy of her brain, Aisling was diagnosed with a rare form of suprasellar germinoma by the Neuro team in Temple Street in June.
We were referred from there to the Oncology team in Crumlin who gave us a treatment plan starting in July where Aisling would undergo 4 very intensive cycles of chemotherapy over 3 months. She experienced quite severe side effects during her treatment and was very ill.
In the middle of Aisling's chemo, we were told we would have to travel to Manchester for Proton Beam Therapy. She would need to have a pre assessment consultation in October, with treatment following 3 weeks later.
However, this plan changed and we had to travel at short notice for the pre assessment between her 3rd & 4th cycle of chemo.
Aisling was very sick, our heads were spinning and we had no idea where to begin. Thankfully, John and Jayne from The Gavin Glynn Foundation stepped in and took over. They coordinated and covered the cost of all of our travel arrangements and anticipated everything we needed so Aisling and I literally just had to pack our bags and show up at the airport. John & Jayne's contacts in Aer Lingus brought us from the airport to the plane, fast tracking us through the queues. It turned a very daunting experience into an adventure for her.
We returned to Crumlin for her last chemo session and are now back in Manchester, as a family (Aisling, Mam, Dad and her brother James), for Aisling's Proton Beam Therapy.
We are so grateful to have the support of The Gavin Glynn Foundation. Without them, we wouldn't be able to be together as a family during the most stressful time in our lives. When your child spends months in hospital, you juggle your family life around that person's needs and we are so grateful now to be able to go through this part of Aisling's treatment all together. What The Gavin Glynn Foundation have done for us is priceless.
We hope that after her treatment, Aisling will be able to rejoin her friends and start third year in school.