Please read the below story about Áine who is another child The Gavin Glynn Foundation is currently helping. Big thanks to Geraldine and Philip for sending this to us to share.
—————————————————————————-
Aine was diagnosed with Orbital Rhabdomyosarcoma (a tumour in the muscle of her eye) – the day of diagnosis was 28th Jan 2015. The previous day Aine had surgery to complete a biopsy in her eye and the surgeon told us that the "Oncology Department" would need to speak to us. Instant realisation of what "Oncology" could mean to our beautiful 5 year old daughter was more than any words could explain. Time stops but yet continues without you being able to do anything about it.
The next day the diagnosis came almost as a relief… compared to the deep dark thoughts that a parent has after being told that their child has a tumour. The tumour was only 1 lump, only in the muscle of 1 eye; all other scans were clear. Rhabdomyosarcoma was explained to us and in turn had to be explained to all family and friends. The oncologist, Jane Pears, was excellent and explained everything in words that made sense to parents who are still in shock and trying to cope.
The following surgery and 9 sessions of chemotherapy in St. John's Ward, Crumlin proved effective.
In Sept 2015 the great word of "remission" was used for the first time. Aine had beat her tumour. Aine's hickmann line was removed in Oct 15 and her first MRI scan in Dec 15 showed no change, all great news.
The best Christmas present that any parent could get was a healthy child.
However in Jan 2016 we noticed a lump in the left eye again that looked remarkably like the previous year. After meeting with her eye specialist and oncologist plus numerous scans again, the diagnosis again on 28th Jan 2016 "Sorry but Aine's Rhabdomyosarcoma has reoccurred".
The world went dark again……all those daily tasks like eating, sleeping, housekeeping, shopping all became chores that required concentration and effort.
The endless cycle of scans and surgery started again.
Surgery in the Eye and Ear Hospital was successful, thank you Mr Paul Moriarty. Tears again however this time definitely tears of relief after her 3rd major surgery in 2 weeks was over.
Chemo started with different drugs the time and 6 sessions of weekly treatments are required in St. John's Day Ward, Crumlin.
Then the information that Proton Treatment in Essen, Germany is required. 30 day treatments with 1 session each day where Aine will be knocked out to ensure she doesn't move. After the medical information starts to sink in, come the other thoughts of how will be manage? With only 1 parent still working how will the everyday bills be paid with the addition of this trip? Once a parent realises what treatment is required, then the how question starts. How do we get there? Where will we stay? What are we going to do there? How much is this going to cost?. The answer is too much financially but you would pay anything to hear that your child is cancer free and can lead a "normal" life again.
Here enters the answer to all our prayers, the Gavin Glynn Foundation, with the wonderful John & Jayne Glynn and their family. They know how parents feel and how to ease the pain. They have organised our flights and accommodation for Essen, Germany with an ease to us that is nothing short of amazing!
They ask nothing in return however here I would like to ask you reading this story to please, if possible, support them with whatever funds you can provide. Any and all assistance helps families like us to concentrate on their child rather than the "how to".
Thanks again to John, Jayne, their family and all other members of the Gavin Glynn Foundation.
Thank you too as a supporter of this foundation.
Yours,
Philip & Geraldine Nolan.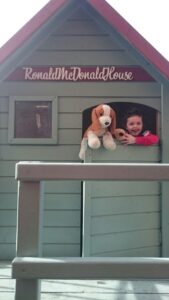 The Gavin Glynn Foundation will help Áine and her family with all their travel and accommodation expenses.