This is our beautiful baby girl Ailbhe.
On the 15th June we received the devastating news that Ailbhe has cancer aged just 14 months old.
Ailbhe was a perfectly healthy baby or so we thought. She had no obvious symptoms and her behaviour was normal.
I had noticed a strange reflection in Ailbhe's left eye one morning while sitting in her high chair in the kitchen. It was a sunny day and at first I thought nothing of it. A few days later while playing I spotted that same shiny appearance in Ailbhe's pupil. I started to worry and of course googled the symptom. I read a story about a boy who had a similar reflection in his eye. His parent noticed that one of his eyes appeared white in a flash photo while the other was red.
This boy had been diagnosed with Retinoblastoma, a rare childhood eye cancer.
I immediately took a flash photo of Ailbhe and became very scared.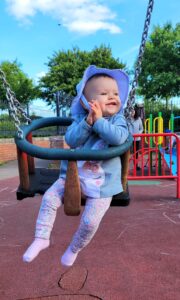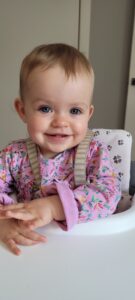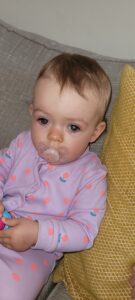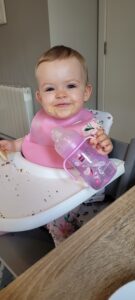 The next day I brought Ailbhe to see our good friend at Specsavers for an eye examination.
He gave me a referral letter and told me to go to Our Lady's Children's Hospital immediately.
That was at lunchtime and before dinner Ailbhe had been diagnosed with Bilateral Retinoblastoma.
It all happened so fast it was too hard to comprehend.
Ailbhe was seen by Ophthalmologist Sarah Chamney who was extremely kind and helpful to us. She performed an eye exam and explained that Ailbhe would need an ultrasound. Following the ultrasound she confirmed that Ailbhe had tumours in both of her eyes. She referred us to Temple Street for an MRI and explained that Ailbhe would need to travel to Birmingham Children's Hospital for specialist treatment for the next two years.
Two days later Ailbhe had her MRI where detailed photos of her tumours were taken. These were sent to the consultant in Birmingham. The following week Ailbhe was in Crumlin having her Broviac Central Line (Freddie) inserted as well as a Bone Marrow Aspirate and a lumbar puncture. The next day she started her chemotherapy under the care of the very kind Michael Capra.
We have just returned from Ailbhe's first visit to Birmingham where she had an examination under anaesthetic and the doctor was able to start the laser treatment on Ailbhe's tumours.
This is the first of many trips to Birmingham for our little girl.
We cannot thank John and the Gavin Glynn Foundation enough for supporting us on this journey.
John has not only helped us with the logistics of travelling with a sick child but has made us feel part of a community that no parent ever dreams they will be a part of.
We will be forever grateful to The Gavin Glynn Foundation.