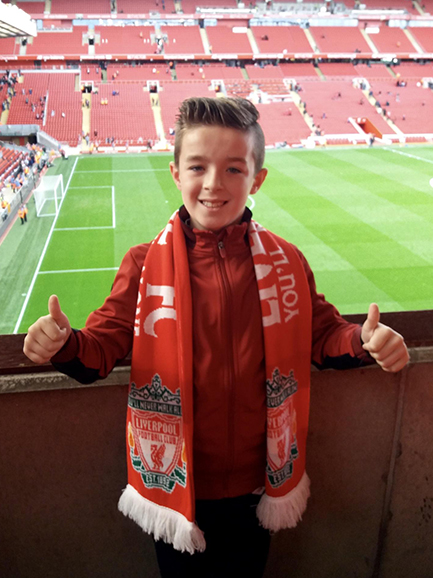 This is our 10yr old son Gary.
To describe Gary in a few words would be impossible. He is the most loving,kind hearted,thoughtful little boy you would ever meet. He is very precious to us. He's our only child we waited 9 yrs to conceive him,he is our world.
Gary is a typical 10 year old,loves playing on his playstation and playing soccer his favourite team are liverpool fc who hes been to see play.
In late December 2018 I noticed Gary's eye appeared to be puffy. A day or two past I brought him for an eye test on dec 22nd showed up nothing. We had xmas and Gary turned 10 yrs old on dec 26th. That Friday which was 28th I brought Gary to GP as I was getting more concerned about his eye. He sent us to our local hospital here in Limerick.
We were seen by an optimolagist who did some tests and eye examinations on Gary's eyes. He seemed concerned. Gary had a CT scan done that day.
Fast forward a lot worry and alot of phone calls and an MRI which Gary had done on Jan 8th this yr.
We received a call to go to crumlin children's hospital that evening the MRI had showed something in the orbit of Gary's eye.
We met with Dr Owen's the next morning who explained to us that they need to do a biopsy and some tests the next two days were the longest just waiting to find out. It felt like everything was out of our control.
On fri 11th Jan Dr Owens came to speak to us we went to room down the corridor where we were told that Gary has a tumour I'm the orbit of his eye it's called "rhabdomyosarcoma" – a type of soft tissue tumor. He told us the test showed it was in right orbit only nowhere else. My mind couldn't take this in to be told our son, who had never been sick always bursting with energy, now has a tumour and now faces months of chemotherapy.
It felt like this wasn't real like we were watching it happening but felt so helpless at that moment all we could do was cry. Dr Owen's explained the treatment plan for Gary, it would be 9 cycles of chemotherapy to start the very next day.
We went back to the ward our son was in it took every ounce of strength to try to explain to him that he needed special medicine to make his eye better. How can a 10 year old make sense of this when we his parents can't…
He had his 1st cycle of chemotherapy the next day.
Fast forward to now and were just back from his 6th cycle am MRI done in April showed the tumour has shrunk to more than half the size of what it was. Gary has been so amazing throughout all of this still smiling and so brave he cant wait to get bk playing soccer.
The next step in Gary's treatment is to travel to essen in Germany for 6 weeks proton therapy followed by 6 months maintenance chemotherapy
I heard about The Gavin Glynn Foundation while up in st johns ward. I rang John explained to him and to be honest it was like speaking to someone who I'd known all my life. The minute we spoke he reassured me that he would help us.
So here we are just about to go to Germany this week for Gary's consultation for 2 days, which John has arranged our flights, accommodation and transfers.
And we'll go back the end of May to begin his 6 weeks of proton therapy.
The Gavin Glynn Foundation will be arranging our flight accommodation transfers for that also.
I think it's just amazing the work that John and his team do, to help families when they need it most, when their overwhelmed with worry.
Our family will be forever grateful to John and his team
Thank you for the bottom of our hearts.
#teamgavinglynn #kidsgetcancertoo #childhoodcancerawareness