Jamie is 13 and a happy go lucky cheeky chap who is always smiling (except in the mornings!) He is just about to go into 2nd year and his favourite subjects are woodwork and PE. He is a very popular player in his clubs Div 1 U14 team.
Jamie started to have a few dizzy spells while playing sport a few months ago but it was when he got concussion during a school Gaelic game he noticed numbness around his mouth and fingers for the first time. A few weeks later he had another episode of numbness in his fingers and this time it travelled up this arm and into his cheek. A few days later he was disorientated and getting sick. An MRI was ordered so we waited on an appointment which came 6 weeks later. In the meantime Jamie was still getting dizzy spells but only when he played football.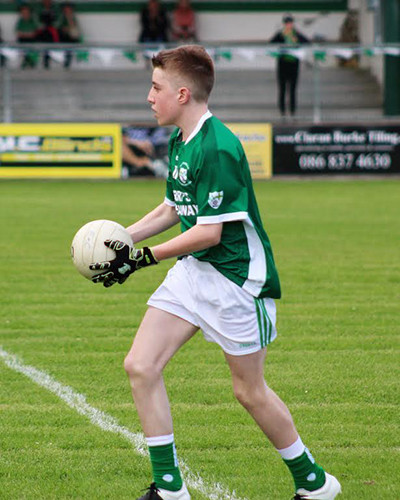 The MRI was taken on Monday 3rd July 2017 and on Friday of that week, we got a phone call from the hospital telling us that they had found a brain tumour, that the surgeons in Beaumont hospital had already seen Jamie's scan and wanted him in Beaumont first thing on Monday morning for surgery that week.
There was a fireworks display in our town that night and Jamie and all his friends were there. It was very surreal watching everyone enjoying themselves with their families while our world had just been turned upside down.
To say that the floor was pulled from under us would be the greatest understatement ever! Jamie was, as we thought, a healthy, very active boy who was the life and soul of our house and all of a sudden, we were being told that he had a life threatening tumour and needed surgery straight away. It was very hard to take it all in. We spent the weekend in a daze and on Sunday started to break the news to family and friends.
Jamie had an ependymoma which was a tumour along the brain stem close to the cerebellum and near the top of the spine. He had surgery on Wednesday 12th and the surgeon was very happy that they had removed all of the tumour and explained that a course of radiotherapy was needed to ensure that the tumour would not return.   Jamie hated the surgical stockings and was told that he needed to be mobile before they could come off so he made sure that the nurses saw him out walking the corridors so he could get them off as quickly as possible!
He came home from hospital on Thursday 20th July and we fully expected to be attending St Luke's for his treatment so we were in shock when we were told in Crumlin on 24th July that Jamie needed proton therapy which was only available in Germany.
We were delighted that he was getting this opportunity for world class treatment but were really worried about the cost implications for us as a family as there was now only one wage coming into the house.
We travelled to Essen, Germany for three days for the planning meetings and the Gavin Glynn Foundation helped us so much with the travel and accommodation arrangements. He has been so so helpful and is always at the end of the phone. After just one phone call from John, a mounting pressure was taken off us and it is a huge relief knowing that we have the support of the Foundation behind us allowing us to concentrate solely on Jamie's needs and recovery.
We are travelling back to Essen on 21st August to start treatment for six to seven weeks. Jamie is looking forward to getting over there, getting the treatment done and dusted and getting back to playing with his teammates!
UPDATE 31st October 2017 –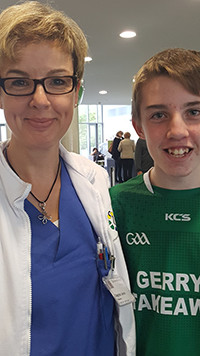 Jamie finished his proton therapy on 9th Oct and is now well and truly settled back into home life. He is still on his anti sickness medication but apart from that doing well. The staff in the WPE Centre were lovely and really looked after him very well. Next is our follow up appointment on 6th December in Crumlin.
Jamie was eager to get back to school (for the craic!) so went back last week for half days just to ease himself back into it.  He even went to a Disco on Friday night!The support from everyone over the past four months has been fantastic and has really helped us get through this difficult time. Thanks to everyone for the prayers, good wishes, donations and visits.
Just want to say again how forever grateful we are to the Gavin Glynn Foundation for all their help and support. We cant imagine what it would have been like without the Foundation's involvement